RedMed Group and Island Water Technologies Inc (IWT) identified a need for improved decentralized wastewater treatment solutions for remote work camps. Existing solutions are energy intensive, difficult to operate and typically required regular addition of chemicals for operation.  Initial discussions between the two parties, identified a number of key factors that were taken into consideration in designing a custom wastewater treatment solution. These included, a requirement for no chemical addition, low-complexity operation, mobile / easily installed in remote locations and have a low-energy footprint. Most remote camps have to incur excessive costs for wastewater haulage from remote locations or have regular issues with poorly performing installed packaged plants.
The first site that was chosen for system installation was the RedMed Group Headquarters in Hassi Messaoud, Algeria. This main base had an existing wastewater collection system that catered for a year-round population of 250 – 350 persons. The current solution for wastewater at this location is the continuous operation of 2 wastewater haulage trucks that transport wastewater (at significant expense) to the regional treatment plant. System installation on-site was completed in 3 days and IWT technical staff were on-hand to provide direction and support through installation, commissioning, operation and initial testing. IWT team members provided on-site training for management and maintenance professionals. Training included both classroom based theory, review of basic wastewater treatment, review of key process components through to hands-on practical instruction relating to system operation and maintenance.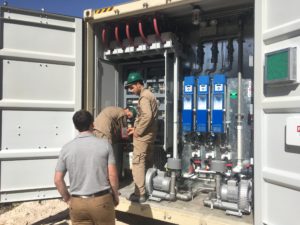 Game changing wastewater solution for remote work camps.
The installed decentralized wastewater treatment system is self-contained in a 40 foot ISO container and designed to treat wastewater generated by up to 300 persons.
Key product benefits include:
No requirement for chemical addition,
A low complexity process (no moving parts),
"Smart" operation where system performance can be monitored remotely by local RedMed operators and by the IWT technical team based in Canada
Significant cost savings (typically > $75,000 / year) – reduces up to 90% of operational energy costs associated with traditional packaged wastewater treatment systems (MBBR, MBR).
The system will deliver treated water that will be suitable for re-use (irrigation) on-site at the base, thereby continuing to save costs for the client
Quote Dr. Patrick Kiely, CEO, Island Water Technologies Inc.
"This is a cutting edge wastewater solution that will enable on-site processing of wastewater at remote work camps. By saving up to 90% of the energy and not requiring chemicals we will demonstrate significant potential for reduced environmental impact and saving costs at these remote locations"