The REGEN system is a unique mobile wastewater treatment system, designed for low-complexity, high performance wastewater treatment. The single-pass wastewater treatment solution leverages advances in fixed film wastewater treatment to remove key contaminants while using a fraction of the energy of competing solutions.
Check out the video below for product testing prior to shipment to clients in North Africa.
REGEN technology saves operators on average 75% of energetic operational costs. "Enhanced Fixed Film" process allows for maximal treatment capacity and minimal operational costs!!!

MBR and MBBR technologies require very high energy requirements for processing wastewater, resulting in excessive costs in either electricity or diesel fuel.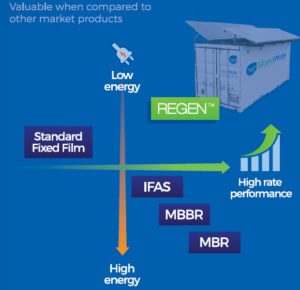 REGEN technology combines the benefit of combined high treatment capacity and low-energy operation.
REGEN technology is a key enabling solution that will allow for more success and greater uptake of packaged wastewater treatment solutions for decentralized wastewater treatment.